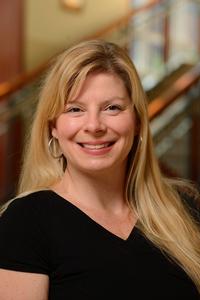 Maureen is a nurse. She worked in neurocritical care at Johns Hopkins Hospital for many years before she had ever heard of NMO. But in 2007, shortly after Dr. Benjamin Greenberg joined the faculty at Johns Hopkins, he recruited her to work with him in neuroimmunology. It was there that she first came into contact with patients with neuromyelitis optica. She also joined Dr. Greenberg in his research efforts in the field of neuroimmunology.  
A couple of years later, when the University of Texas Southwestern Medical Center recruited Dr. Greenberg, Maureen went with him to Dallas to help set up the Transverse Myelitis/NMO and the Pediatric Demyelinating Diseases programs there.  It was then that Maureen developed a special love for her patients with NMO. She admired their thirst for knowledge about the disease that had attacked them and was impressed with their insistence on being heard.  They never took her support or interest in them for granted, and that only endeared her to her patients even more, and strengthened her resolve to contribute through education and research.
When she first started working with these patients, they'd tell her that when they said the letters "NMO" aloud as their diagnosis, people would look at them as if they had three heads. Still, they kept speaking up and speaking out. They exhibited a striking resilience and seemed to become defeated or defined less often by their diagnosis than Maureen had seen with other patient populations. They were fierce in their efforts to "have" but not "be" their disease. And Maureen has enjoyed, over the years, watching the community of support among NMO grow and grow, with patients leading the way.
But just a year after she moved to Dallas, her sister became ill, and Maureen moved back to Baltimore to be near and help her. She rejoined the neuroimmunology group at Johns Hopkins as the Program Manager for the Transverse Myelitis Center and Neuromyelitis Clinic, working with Drs. Carlos Pardo and Michael Levy. She was involved in clinical care with both, and additionally worked in NMO research with Dr. Levy. It was under the mentorship of Dr. Levy that she developed a real passion for research. The fact that, at the time, the field of NMO was so unexplored gave her an opportunity to make observations in clinic, ask the previously unanswered questions based on those observations, and then seek out the answers through research. Dr. Levy exposed her to the process and gave her the resources and latitude to delve into answering those questions, leading them to publish over 40 manuscripts together on NMO! Ultimately, it was his and Dr. Pardo's encouragement that led her to seek out her PhD. And it was at that point that Dr. Levy became not only her boss and mentor, but also her PhD advisor, since there was really no question that it would involve research in NMO.
So, the next question became, where was the real unmet need? 
Maureen created great relationships with many of her patients. With a background in nursing, she is a caregiver first and foremost. And as a caregiver, she was distressed. One of the major frustrations her patients expressed over and over and over again involved the inadequate management of the severe pain her patients lived with every day.  She would treat them with the pharmacological options available, but these were rarely enough. She experimented with dosages, with drug combinations, with different medications. Too often, nothing worked sufficiently, or the drugs created side effects bad enough that her patients often rejected the therapies. Maureen also noticed how pain impacted so much of the rest of her patients' lives, and not having the tools to help made Maureen feel helpless.  
Maureen knew that research, appropriately, was centered on how to stop attacks. There was no research into pain in NMO other than a few small, descriptive studies. For Maureen, it was entirely unacceptable that the thing that interfered with the lives of so many of her patients had been left unexamined. So the question about what to study really answered itself – Maureen needed to develop a deeper understanding of pain and how it affects other aspects of patients' lives, even other symptoms, and how to more broadly think about pain treatment in NMO. She wanted to perform a study that enabled pharmacologic and non-pharmacologic interventions to be used together, hoping that this might increase the chance to get pain down to a manageable level. 
As part of her thesis, Maureen developed and conducted the
first ever
randomized controlled trial studying pain in NMO to be reported.
Maureen set out "to determine whether Scrambler therapy is an effective, acceptable, and feasible treatment of persistent central neuropathic pain in patients with neuromyelitis optica spectrum disorder (NMOSD) and to explore the effect of Scrambler therapy on co-occurring symptoms." 
The study, among 22 NMOSD patients, concluded that Scrambler – a non-invasive device that sends electrical impulses through pain pathways and modifies the brain's interpretation of pain with "no pain" information – is an effective, feasible and safe non-pharmacological option for neuropathic pain relief among patients. Maureen conjectured that in reducing pain, Scrambler therapy could also reduce other symptoms, and she found that depression decreased following treatment as well.  She looks forward to seeing additional studies conducted on similar devices in the future. 
About the time that Maureen got her PhD, Dr. Levy and his family moved to Boston, where he currently leads The NMO Clinic and Research Laboratory at Massachusetts General Hospital, among other responsibilities. Though she considered joining him in that move, given the recent birth of her son and the proximity of family, she decided to remain in Maryland.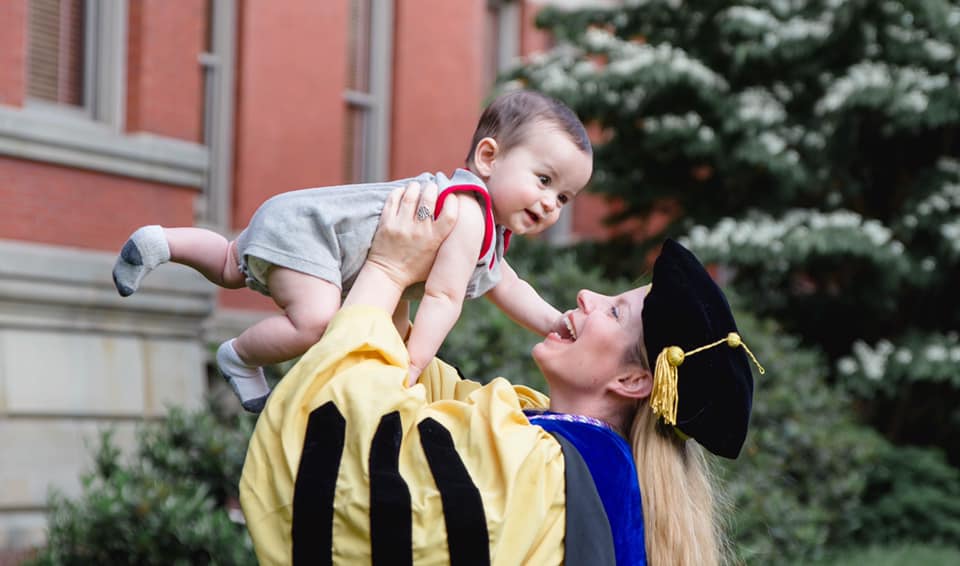 Maureen took the leap from the hospital lab to biotechnology, committed to staying in the NMO space. She works today as a Medical Science Liaison for Viela Bio, one of three pharmaceutical companies involved in the development of medications for NMOSD treatment.
On June 11, the FDA approved Viela Bio's CD-19-directed cytolyztic antibody indicated for the treatment of NMOSD in adult patients who are AQP4 positive. Though she misses doing research, Maureen has the opportunity to share her clinical and patient experiences with colleagues and educate practitioners on a daily basis. 
In addition to her work at Viela Bio, given her history of research into pain in NMO, she is periodically called upon to speak about this issue in forums dedicated to understanding pain in neuromyelitis optica, where her expertise is appreciated by healthcare providers and patients alike.  
Maureen is extraordinarily grateful to have worked with Drs. Greenberg, Pardo and Levy, who supported her so generously in her work and professional development. She holds a special place in her heart for her partner in NMO crime, Dr. Michael Levy, who enabled, encouraged and pushed Maureen into attaining her PhD – – – a gift, not only to her, but to the NMO community as a whole.
As told to Gabriela Romanow in July 2020