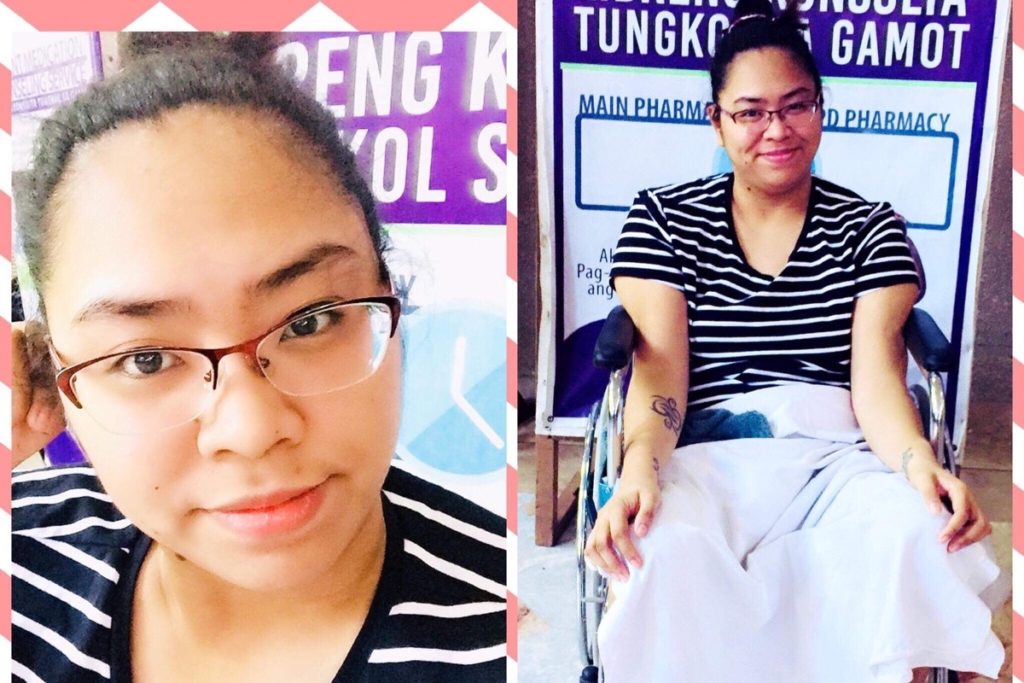 My name is Shiela Marie Rutaquio from Binangoan, Philippines. I am 27 years old and I was diagnosed with a rare autoimmune disease called neuromyelitis optica (NMO) also known as Devic's Disease in August 2018. My immune system fights against itself which causes damage to my spinal cord and myelin sheath resulting in paralysis from my waist down to my lower extremities with severe lower back pain, bowel and bladder dysfunction. Because doctors in my country were not able to determine the actual diagnosis for a long time, I've been paralyzed since July 2018, in and out of the hospital since then.

In December 2017, my symptoms started with a simple lower back pain. I tried many painkillers and even linament oils to alleviate the pain but nothing seemed to work or change. The doctor then ordered an ultrasound of my kidney and bladder after which we found a 0.4 mm stone in my right kidney. Since it was small enough to pass, I relied on medications hoping that it would dissolve quickly.

In February 2018, I began feeling pins and needles from my legs to my feet. In March 2018, my legs became weaker and the doctors believed the loss of sensation was due to my high sugar levels. But then, out of nowhere, I became constipated…
In April 2018, I was admitted to the hospital for urinary retention. Again, the doctors said it was just my kidney stone passing through. By May 2018, I could barely walk due to weakness and back pain. Finally, the doctors referred to me a neurologist who immediately ordered cervical and thoraco-lumbar MRIs. By July 2018, the numbness spread to my arms, the left side of my chest, and my vision became blurrier.

I am officially paralyzed and unable to work which has all been very difficult for me to accept. The doctors here feel helpless likely due to a lack of NMO knowledge and/or access to treatment. Unfortunately, I cannot afford these exorbitant medical bills which has led me to seek care at the Philippine General Hospital since they offer free check ups. The care team has prescribed many relapse-preventing medications that my family cannot afford.
I am currently on intermittent catheter with paralyzed lower limbs and my neurologist suggested physical therapy to regain strength and balance. Physical therapy has been great but each session needs to be paid for up front and I just can't make ends meet anymore.
Everyday, I take azathioprine, prednisone, omeprezol, gabapentin, clonzapem, pregabalin, amlodipine, bethanicol, calcium, B complex,
vitamin D, and lactuluse. I am also in constant need of supplies like intermittent catheters, adult diapers, wipes, underpads, cotton, povidine iodine, alcohol, and surgitech lubricating jelly.

So here I am, swallowing my pride due to desperation and limited resources – I am seeking help from kind people around the world to read my story and help me get the treatment and supplies I need. We do not have health insurance which is not ideal for a rare autoimmune disease without a cure. My family and I simply cannot afford for me to live at this point and we need help.
Please consider donating to my GoFundMe page created by a friend of mine. Your donations will help me continue my fight against NMO and maintain a humane life. You may also visit my Facebook page and see updates on my health in recovery in the album titled "My NMO Journey".
As a token of my gratitude, I will include you all in my prayers. Thank you for reading my story.

Love, Shiela
Published March 6, 2019