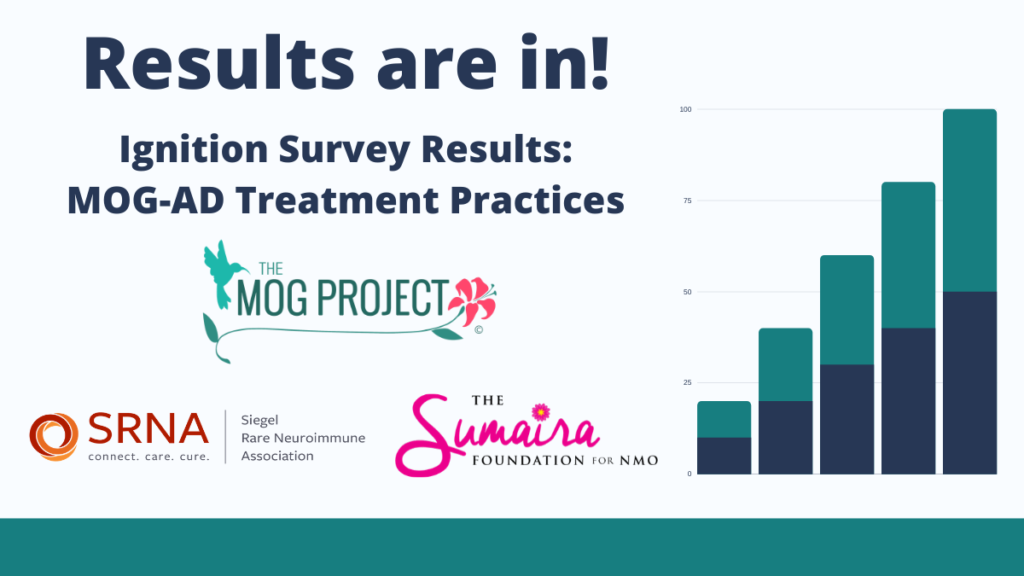 July 9, 2020 — In spring 2020, The MOG Project partnered with the SRNA and The Sumaira Foundation to understand treatment practices among MOG-AD patients. The goal of the survey was to learn from the MOG-AD community experience and share results with physicians and each other. 
267 MOG-AD patients and their caregivers completed a survey asking a range of questions regarding acute and preventative treatments and their associated side effects.
89% of respondents had been prescribed an acute treatment during their most recent attack / relapse, the most commonly prescribed being IV steroids (86%), followed by oral steroids (50%).
Nearly 70% of MOG-AD patients are currently on a preventative treatment. Rituximab (45%), Mycophenolate Mofetil (25%), and IVIG (25%) were cited as commonly prescribed preventative treatments.
Side effects were common, with 66% of MOG-AD patients reporting side effects from their acute treatments. 49% of patients on Rituximab, 32% on Mycophenolate Mofetil, and and 53% on IVIG reported side effects from their treatments.
It is important to note that due to recruiting methodology, this respondent pool may skew towards patients with more severe cases of MOG-AD.
To view the survey results, click HERE.
Special thanks to the MOG-AD community and their caregivers for participation in the survey. It is our hope that the survey results will help MOG-AD patients and their caregivers know that they are not alone; ours is a shared experience as a community.