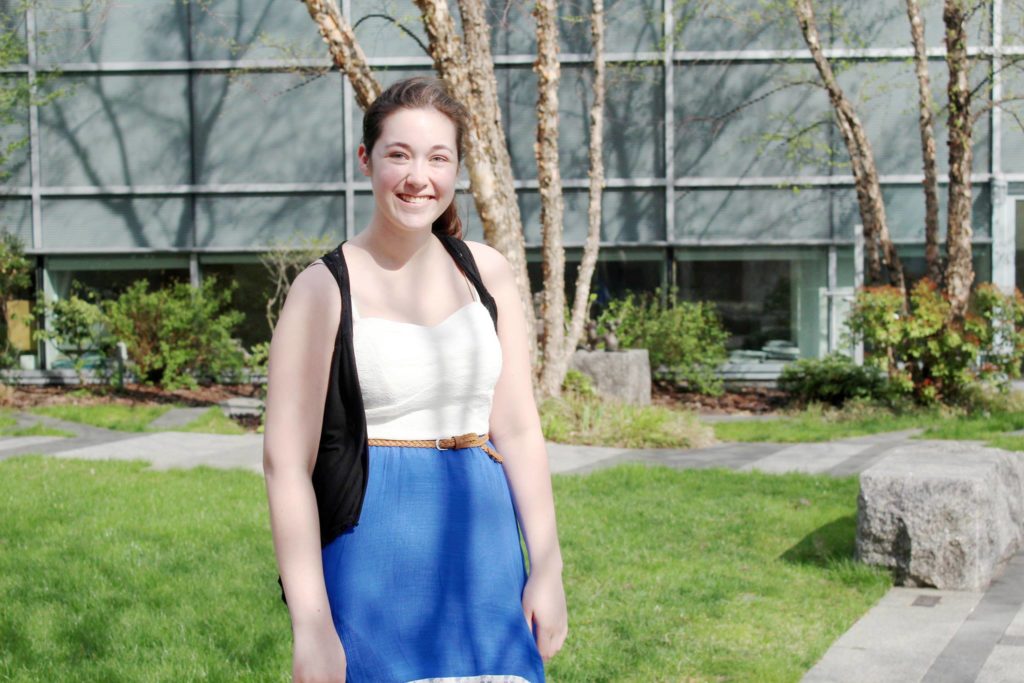 February 1st, 2011 – I began having vision problems in my left eye and a few days later, it got drastically worse. I went to the Mass Eye and Ear Infirmary's ER and was diagnosed with Optic Neuritis. With time, it got a little better but by the end of February, my legs started feeling tingly, numb, and heavy.
I felt like no one believed me. One night my dad and I were bringing my boyfriend home and when I walked outside, I fell in the snow and couldn't stand up on my own. This is when they finally realized something was really wrong. From then onward, my pediatrician suggested I go to Mass General Hospital because Boston was known for housing the best doctors; off I went in an ambulance…
I got a spinal tap and met with Dr. Tanuja Chitnis, a neurologist. She diagnosed me with sero-negative NMO. The treatment plan was 5 days of IV steroids and by the end of the week, I was feeling completely better! It certainly felt like a miracle. We didn't know if something like this would happen again but we all left the hospital feeling confident that if it did, I would just get more steroids and everything would be fixed.
One month later to the day, I was back in the hospital with a severe headache and numbness from the waist down. By this point, I was so out of it because of the pain. My mom said it was as if I was in a coma. To give you an idea of just how out of it I was, I slept through a spinal tap!
The treatment plan this time was a new medicine that was supposed to give me a major boost: IVIG (Intravenous Immunoglobulin). The first day, I didn't feel any better and was really disappointed but on the second day, I noticed a big difference and was overjoyed. I ended up spending 2 weeks at MGH, then 2 weeks at Spaulding Rehab, then 12 weeks at Spaulding Rehab Outpatient. By this time, it was April and I was started on IVIG every 2 weeks.
I was 16 years old and my body had been pumped with so many steroids and other medicines which caused me to gain a ton of weight. Teenagers already struggle with body image issues but on top of that, I now had to work NMO into my identity. I missed over 50 days of school had to go to summer school to make up for it.
When I was initially diagnosed, things were emotionally really difficult for me. Most 16 year-olds are focused on getting their driver's permit and here I was, worrying about when my next attack would be. Fortunately for me though, I had great doctors and an even more amazing support system to get me through the tough times. Before I was officially diagnosed, I went through periods of feeling depressed because no one knew what was wrong with me. The unknown was always what scared me the most. Once they found out what was wrong with me, a lot of my fears were alleviated.
I have always been an optimistic person and this situation was no different. I've had NMO for 6 years now and I continue to say, "If I can't do anything to make it better, what's the point of being upset about it?" Instead of choosing to feel bad for myself, I choose to be resilient. I know that my story includes some rather difficult and stressful events but I have faith that God will deliver me through it. Instead of focusing on the negatives, I make it a goal to search for the positives in every situation.
"When I couldn't walk, at least I could see. When I couldn't see, at least I didn't have to do homework. When I had to go to summer school, at least I was well enough to finish school. When I was diagnosed with an incurable autoimmune condition, at least I am still alive."
Living with NMO is a major adjustment. Learning to live with it was extremely difficult at the beginning; it was constantly on my mind. When would my next attack be? Will I be able to go out with friends or will it completely wipe me out? Can I take a road trip or will my bladder control me? For me, the most difficult thing about living with NMO is having to incorporate it into my identity in a way that still allows me to live a happy life.
Even though I went through a lot of unfortunate events, I am glad I have NMO. This might sound crazy but hear me out: living with an invisible illness has given me new-found strength and a greater appreciation for life. It has made me realize how precious life truly is. My hope in telling my story is that someone might read it and find the strength to continue on…
Published on March 1, 2017