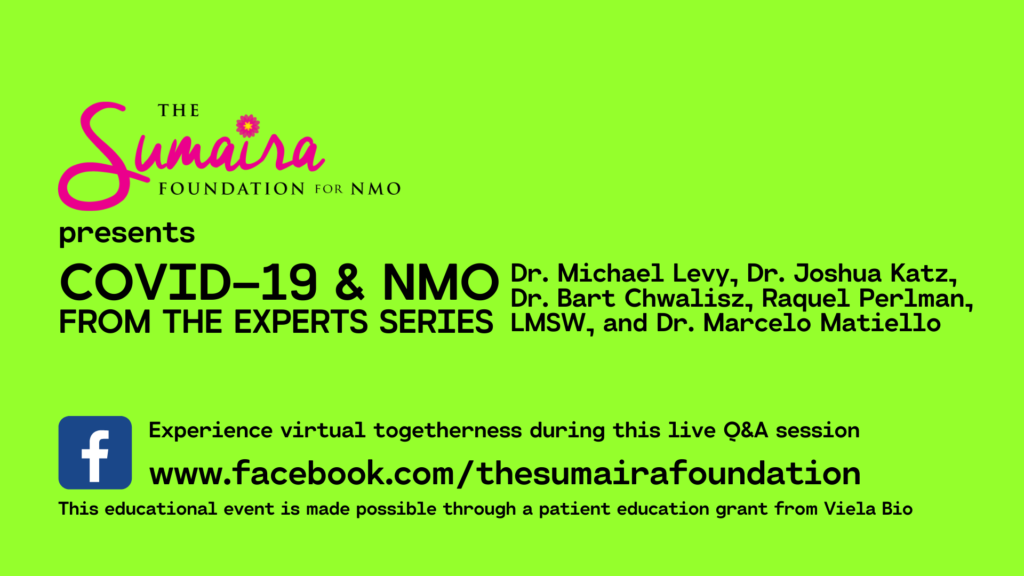 March 30, 2020 — The Sumaira Foundation for NMO (TSF) launched COVID-19 & NMO: From the Experts, a limited series of live Q&A focused on navigating the pandemic for those living with neuromyelitis optica.
The premiere session featured Dr. Michael Levy, director of the NMO Clinic and Research Laboratory at Massachusetts General Hospital in Boston. Dr. Levy led a Q&A session focused on risks of the virus, self-isolation procedures, and any other general concerns specific to the NMO community. The video is available on TSF's YouTube channel or Facebook.
[Updated on May 4, 2020] Please click on the session titles to access the webinars:
We encourage all individuals living with NMO and their caregivers to participate in these informative sessions and ask the experts questions they may have about COVID-19. 
We hope this series will positively impact those living with NMO and help keep our community informed during this evolving time of uncertainty. 
This educational series is made possible through a patient education grant from Viela Bio.