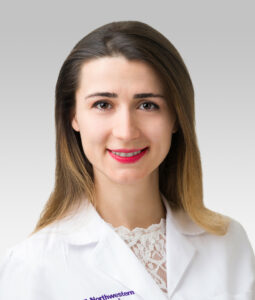 August 16, 2021 – The Sumaira Foundation for NMO is pleased to welcome Elena Grebenciucova, MD to its medical advisory board.
Elena Grebenciucova, MD
Dr. Elena Grebenciucova is a neuro-immunologist and NMO specialist at Northwestern University in Chicago, IL.
She was initially trained in neurology at the University of Chicago and completed her neuro-immunology fellowship, focusing on transverse myelitis at the University of Pennsylvania.
Dr. Grebenciucova has a specific interest in the risk of infections associated with the use of immunosuppressive medications and is passionate about patient education and empowerment.
In her free time, she is a dog lover, kitchen pharmacist, and a self-certified art therapist who shares Van Gogh's love of all things yellow and believes that wellness is a state of mind and happiness is an art and an exercise in resilience and perseverance.